Books in Brief: I Must Betray You; Crushing; Swallowtail Legacy, Wreck at Ada Reef | Books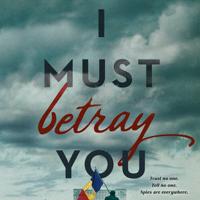 Burrows finds interesting ways for the two to miss connection. He stops at the cafe where she works, the two walk late at night in their pajamas to the nearby kebab and pizzeria. Then a wonderful top view shows them both in the grocery store in different aisles, finally destined to meet.
Swallowtail Legacy, Wreck at Ada's Reef by Michael D. Bell; Pixel + Ink, 320 pages, ($17.99) Ages 8-12.
Michael Bell, author of the Edgar-nominated Red Blazer series, delivers a compelling mystery of a 12-year-old girl named Lark who moves for the summer with her younger sister, stepfather and stepbrothers to the island. Swallowtail at the west end of the lake. Erie and stumbles upon the mystery of an ancient boating accident that may have been a murder.
Bell offers a fascinating setting, an island that is a car-free paradise for birds and wildlife (travel is by bicycle, horseback, and golf cart). An obnoxious local businessman plans to change all that with a massive luxury development that would completely change the nature of the island. Lark is a compelling heroine: smart, brave, quick-tempered, and an outstanding soccer player.
Bell delivers a well-crafted mystery with an action-packed finale and the harrowing story of a daughter who endures the deaths of both parents and learns to accept her new blended family.