Danganronpa Decadence – Danganronpa S: Detailed story of the ultimate summer camp, Hype Cards, more; Danganronpa series shipments exceed five million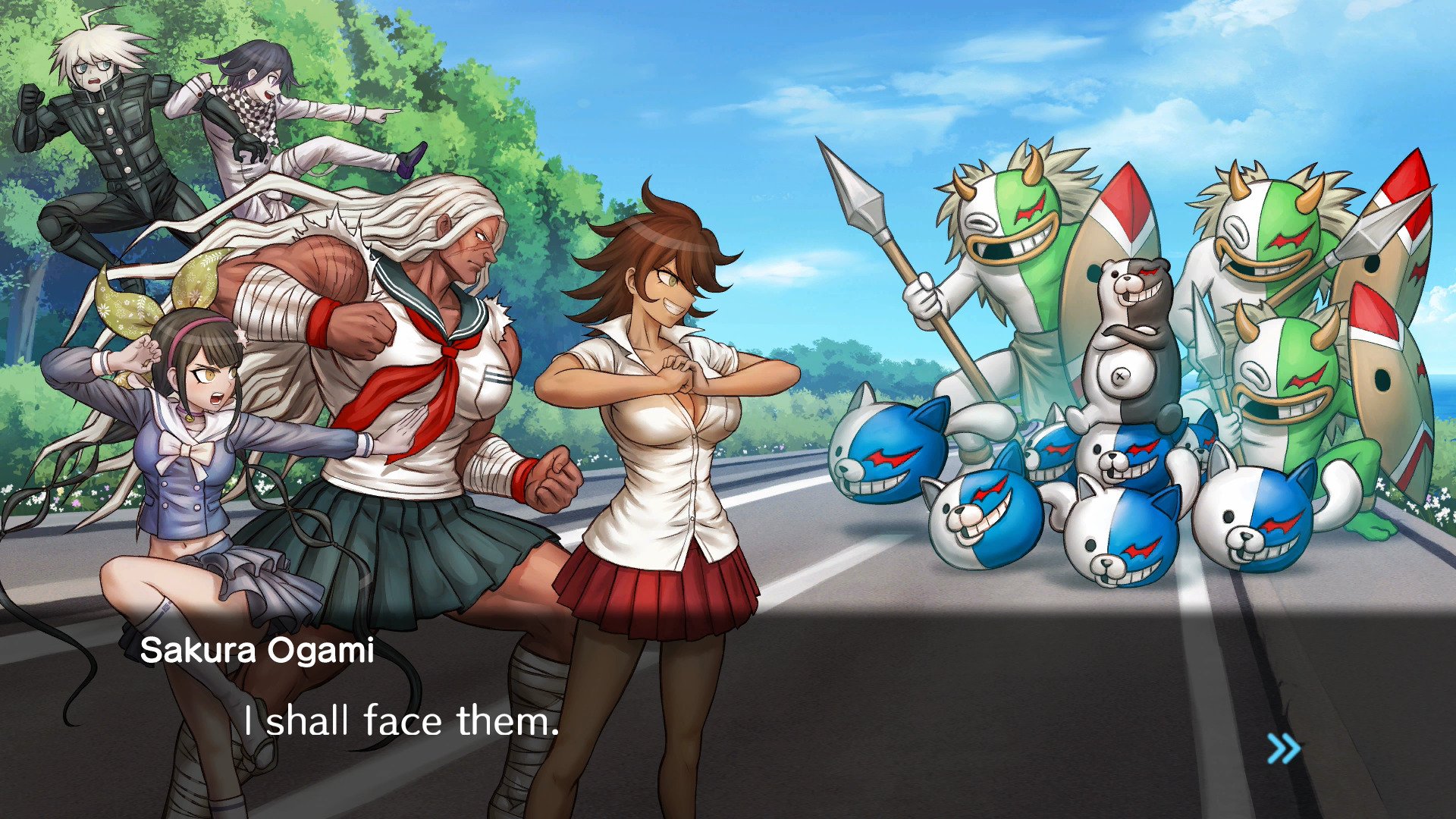 Spike Chunsoft posted new information and screenshots for Decadence Danganronpa bonus game Danganronpa S: Ultimate Summer Camp showcasing the history of the game, the Hype Cards and more, and announced that the Danganronpa series has exceeded five million worldwide.
Get the details below.
■ Danganronpa S: Ultimate Summer Camp
The ultimate students of Hope's Peak Academy are ready to graduate, but before that, the culmination of three years in the life of the academy begins with the 50-day Talent Development Camp. Let's see how their adventure unfolds in the prologue of Danganronpa S: Ultimate Summer Camp.
Komaru Naegi arrives at Hope's Peak Academy after receiving an invitation from the Talent Development Camp. It turns out that some of the family members of the participants, as well as students from the primary school affiliated with Hope's Peak Academy are also attending the camp. Horrible events like those that happened on the main line Danganronpa the series won't happen here, but for the most part, the story retains the relationships between the characters. The characters of Ultra desperate girls appear to have met while Komaru was on a field trip to Towa City.
The stage of the talent development camp is, of all places, the Neo World program. This virtual world looks like reality. Once someone walks into a capsule connected to a computer, they find themselves on the eternal summer shores of Jabberwock Island. During camp, state-of-the-art equipment built secretly under the academy provides feedback to the user's actual body as they exercise and eat.
The Monokubs are back to support the campers. Using their Monokub Wands, Monokubs can create virtually anything the camp needs. However, Monokuma has decided that the camp needs to be taken seriously and, by stealing a wand, turns Jabberwock Island into a dangerous place filled with wild Monobeasts. To complete Development Camp and return to the real world, participants must battle Monobeasts, hone their skills, and obtain their respective Hope Shards.
Gather Shards of Hope to progress in the story
The main story advances each time you complete 10 character development. It seems that the Monokubs supporting the students and the Monokub Wand are the key to the storyline…
Monokid spends his days overwhelmed by his work at the Beach House. But the (self-proclaimed) messenger of hell can no longer bear this life and ends up bursting. With the power of a Monokub wand, he creates the Hellish Battle Ring and attacks campers.
Battle with Monokid. Form a party with your developed characters and face enemies like in the Tower of Despair.
Monokubs and development
The Monokubs are there to support the campers. During the development of the board game, Monokubs will appear at the end of a turn to help you.
"Monotaro finds you cards of exceptional value, but he forgets which is which so he will give you one of his cards at random.
—Monokid will sometimes appear and give you the option to go straight to your destination, a great bonus in a board game where your turns are limited.
Boost yourself with Hype cards
In addition to unlocking characters via character cards, the three MonoMono machines in the school store give out Hype cards and freebies. Hype Cards further enhance your character's abilities and increase their maximum growth capacity. There are nine varieties of Hype cards for each character. Once a Hype card is drawn for a character, it will take effect regardless of the character's rarity or the game mode in which it is used (Board Game or Tower of Despair).
Hype Cards feature a multitude of illustrations from the extensive catalog of Danganronpa merchandise. Fans will be able to enjoy lavish designs once limited to licensed products.
Most of the Hype cards feature combat related effects such as "Break Attribute Cap" or "Attack Damage + 10%" and many more that will be useful both in the board game and in Tower of Despair. You can check the status and art of your Hype Card collection through the character selection screen.
Start your development with a gift
In addition to Hype Cards and Character Cards, MonoMono machines also give out goodies that will help you in the board game. Giveaways have effects like "Increase Card Inventory Size", "40% Store Discount", and more. You can start a session with up to two freebies. Gifts are consumed when used, so try to apply them effectively.
—Gifts include the main line Danganronpa items such as the replica sword or the Hell Hound earring.
Hype Cards
There are nine types of cards for each of the over 60 playable characters, creating a total of over 500 cards in all. Here are some of the exciting cards, along with their license holders.
Participating illustrators include: ponizuka / 8ent., Bandai Mayo, Sameyama Jiro, Eku Uekura, Yuupon, CHAN × CO and Kingin.
A3 Co., Ltd.
Eight Entertainment Co., Ltd.
Illustration: Ponizuka / 8ent.
Cospa Co., Ltd.
Illustration: Bandai Mayo
"Tsumamare" is a trademark of Cospa Co., LTD.
Chugai Mining Co., Ltd.
Illustration: Sameyama Jiro
Illustration: Lerche
Alger Non Product Co., Ltd.
Chan x Co
Bandai Namco Amusement Inc.
Chugai Mining Co., Ltd.
Illustration: Eku Uekura
Alger Non Product Co., Ltd.
Illustration: Yuupon
Kadokawa Company
Illustration: Kingin
Spike chunsoft
Illustration: Araragi Ayune
Spike chunsoft
Find out more about the school shop
Players can get all the content such as characters, character upgrade cards, and items just by collecting and spending coins in the game. For example, if a player wants a specific character card, they can collect Monocoins and use them on MonoMono Machines for a chance to win this card. Players can rest assured that they will not receive duplicate Character Cards and Hype Cards from the machines. In addition to this, players cannot exchange real money for in-game Monocoins.
Let's say a player really wants a Nagito card in a swimsuit, but doesn't have much time to play. They could visit Nintendo eShop and purchase "one card" downloadable content. Using this DLC allows them to obtain the rare Nagito Card without leaving any luck. Here's how it works: In the school store there will be an option to visit the Nintendo eShop to purchase downloadable content. This downloadable content will allow the player to select any prize they wish on any machine, effectively removing the element of random luck.
Prices for downloadable content are listed below:
One card ($ 0.99)
Three cards ($ 1.99)
Five cards ($ 2.99)
Three Cards (can only be purchased once) ($ 0.99)
■ Danganronpa The series ships over five million units
Spike Chunsoft, Inc. is also excited to announce that starting in late September 2021, cumulative shipments of all four games in the Danganronpa series (Danganronpa: Trigger Happy Havoc, Danganronpa 2: Goodbye Despair, Danganronpa Another Episode: Ultra Despair Girls, and Danganronpa V3: Kill Harmony) have now exceeded five million units worldwide.
The company also announced that download sales of PC versions of Danganronpa: Trigger Happy Havoc and Danganronpa 2: Goodbye Despair have each exceeded one million units.
Since the original release of Danganronpa: Trigger Happy Havoc for PlayStation Portable (PSP) on November 25, 2010 in Japan, three main titles and one derivative title were released for various platforms including PlayStation 4, PS Vita and smartphones. With a high percentage of foreign players, the PC versions of the games have sold around three million units. The Danganronpa The series has spawned television cartoons, manga, novels, live-action productions, popular merchandise, and various collaboration events.
Along with other projects, the company is commemorating the franchise's 10th anniversary with the upcoming release of Decadence Danganronpa for Nintendo Switch. Spike Chunsoft looks forward to further expanding the Danganronpa franchise with games in various genres and more.
■ Danganronpa 10th anniversary: ​​ultimate class reunion
Take a look back at ten years of Danganronpa history and enjoy musical performances when Spike Chunsoft hosts the "Danganronpa 10th anniversary: ​​ultimate class reunion. This 90-minute special will be broadcast live from the Japanese pavilion in the town of Tokorozawa Sakura in Saitama, Japan.
Among the planned guests are Japanese voice actors Megumi Ogata (Makoto Naegi and Nagito Komaeda), Kikuko Inoue (Kirumi Tojo), Megumi Toyoguchi (Junko Enoshima) and Masaya Matsukaze (Yasuhiro Hagakure), musical directors Masafumi Takada and Jun Fukuda, and others .
There will be two performances of this event live.
Daytime show – Saturday November 27, 2021 at 3:00 p.m. JST (Friday November 26, 2021, 10:00 p.m. PST)
Night show – Saturday November 27, 2021 at 6:30 p.m. JST (Saturday November 27, 2021, 1:30 a.m. PST)
For more information on purchasing tickets to see the live broadcast online outside of Japan:
Video on demand will be available from November 27 at 7:00 p.m. PST to December 5 at 6:59 a.m. PST with the purchase of a ticket.
Decadence Danganronpa releases on Switch on November 4 in Japan and December 3 in North America and Europe.