Ending the Story: Vosburg Tells the Second Half of Military Service | New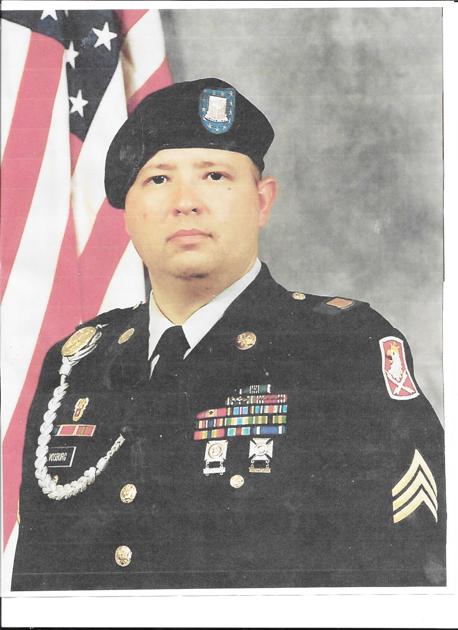 [ad_1]
Editor's Note: This is the second part of a two-part series focused on David Vosburg, a veteran with local connections.
At the end of his four-year contract, Vosburg re-enlisted for another four years, this time with the clause that he would be returned to Germany. While flying to Frankfurt, a sergeant from his unit picked him up since Vosburg was the only soldier to arrive at the base that day. While on their way to Darmstadt, the sergeant, who was part of the electrical lighting and maintenance unit, learned that Vosburg had the capacity to repair distribution boards. Interested, the sergeant chose Vosburg's brain on his knowledge of the subject.
"When we got to Darmstadt, at the unit, instead of going straight to headquarters to sign and register, he took me to the bowling alley. Instead of going bowling, he went to that picnic table area at the end. At table, a sergeant major and four first sergeants were all having lunch. He said to the sergeant major, 'This is Spec. Vosbourg. It has just been picked up. He's supposed to go to Alpha Company, but, Sergeant Major, you know we need another soldier in the electronics and spec maintenance shop. Vosburg is used to repairing switches. ' The Major looked at me, looked at a First Sergeant and said, "Sorry, you lose. "
Vosburg was now part of the headquarters of the electronic maintenance workshop. Instead of making nodes and standards work, his job was to fix them. While in Darmstadt and as Vosburg's knowledge and ability to repair equipment increased, Vosburg became a senior specialist and subject matter expert to his adjutant.
"If any communications, be it satellite, the troposphere, or anything of that nature, were attached to a node center or any type of switch that we oversee, I would have to have general knowledge of it. Everything that was in my job, I was supposed to be the expert, so when they turned around and looked at me and I said yes or no, it kind of solidified the decision to the adjutant.
This time in Germany, Vosburg connected to a German program called the American-German Friendship Organization. The program was intended to give American soldiers a chance to leave the barracks and, in turn, the Germans who bonded with the soldiers improved their English.
"I still remember a German who said he was trying to learn American English. He had been taught by a British teacher, so he thought he knew a bit of slang. He made a comment, "Hey, do you wanna go out and get a fagot?" – which is British slang for a cigarette.
Through the program, Vosburg befriended Germans who then took him to places they loved across the country.
"So I went out of the field, and [soldiers] would say 'does anyone have any plans for the weekend?' 'Yeah.' 'What are your plans?' I have no idea, sir. 'What?' "My German friends already made plans, they texted me, I'm supposed to be at the gate at such and such a time." I didn't know where I was going.
Sometimes his friends would take him to football stadiums, other times they would take him to restaurants. Vosburg once ran in the Frankenstein Castle Run. The 13-kilometer marathon covered the hill on which the castle sits that inspired Mary Shelley's novel.
As he nears the end of his tenth year in the military, Vosburg faces a dilemma. According to army rules, if someone has not been promoted to sergeant at the end of 10 years, they will be fired for lack of "forward progress".
"The problem they didn't understand was that as a node center specialist most of the time I had all the power to [staff sergeant] and none of his problems. Okay, he was getting paid $ 50 to $ 100 more a month, but I didn't have to deal with his problems only, but I made all the decisions they were going to make. So I had no real reason to be promoted.
Still, Vosburg had to approach the promotion committee. To begin with, the early sergeants asked general questions about the military. Vosburg responded with no problem.
"I am neither nervous nor scared. These are some of the things they are looking for, see if they can piss you off, panic, whatever.
The sergeant major, who normally doesn't ask questions, said Vosburg, then asked "fast-fire" questions. These were all MOS specific questions. Again, Vosburg answered all of them.
"When he was done he said to all the first sergeants, 'you see? There is nothing technical we can teach him. It's just the tactic, "he said. "He argued that there was no reason not to send me to school for a promotion. He had already decided.
So the board sent him to learn from a primary leadership development course. He was officially promoted to sergeant on March 8, 2002.
Vosburg's birthday is September 12. Since joining the military, he had been in the field on his birthday. 2001 was the first year Vosburg was able to do this. His German friends had prepared a party for him. When the planes struck the Twin Towers, the military went on high alert, dashing their plans.
"It became very difficult for me to enjoy my birthday when I am constantly reminded that 3,000 people died the day before. For years and years, I basically avoided my birthday. I didn't want anything to remind me of that.
The way 9/11 happened is also weighing on Vosburg. The army was unable to defend itself against the attack because terrorists infiltrated the country. They never had the opportunity to defend themselves.
"They didn't go through the army. They entered, bypassed us and killed 3,000 people. We couldn't fight. It would have been very different, my opinion would have been very different if they had come to us. Even if we had lost, and I don't think we would have.
Vosburg remained in Kitzingen until 2003, when President George W. Bush decided to launch the invasion of Iraq. Accompanied by his division, the 3rd, he provided communications while the army moved towards Baghdad.
"We would go this far, then the EMPs would tell us that we are too far ahead. The infantry had not completely secured this area, so they had to go back. We would drive backwards for a day or two, stay overnight, then turn around and come back and pass where we were.
His unit remained 30 kilometers south of Baghdad for nearly six months until the city was secured. Remaining at Camp Victory, Vosburg stayed another six months until the end of his one-year tour, returning to Germany for a year. He returned to Baghdad soon after for another year.
"The second time we got ready to leave… [the brigade sergeant major] made a warrant that basically charged each non-commissioned officer to ensure that each of our soldiers returned. I was lucky. I was able to achieve this goal. Unfortunately, we had a soldier who was killed by an improvised explosive device, and we had a soldier who committed suicide.
At the end of his second stay in Iraq, Vosburg had again reached the end of his contract. He had been in active service for 14 years. At that time, however, the military decided to upgrade their communications systems from the MSE to the Common Node Network, aka JNN. Attempting to apply for a position in the new system, the military rejected the application because they were "critically short" for positions in the MSE as everyone was transferred to the new system.
For several reasons, Vosburg decided to withdraw from active service and join the Army Reserves. First, the positions he could apply for were at a lower level. Second, Vosburg had tried to control where he had been and where he worked as much as he could until now, and his entry into the Reserve helped him maintain that control.
"I was told that I could get severance pay if I enlist in the National Guard or the army Reservations. I spoke with the National Guard / Reserves recruiter and found a MOS I wanted. It was 25 Bravo, which is essentially a repair of computers, running the unit's computer systems instead of phones.
Vosburg also found a post in a regional readiness command in Wichita, Kansas, which means he could return home to Salina. Although his position and workplace changed over the years, he remained in Kansas on the Army Reserves until 2019 when he retired from the Army.
"I ended my career in the reserve unit in Kansas City for almost 27 years to the day. It was actually my plan, but the paperwork was processed faster than I expected, so I barely finished a week.
After the military, he virtually attended DeVry University and obtained degrees in technical management in computer network administration.
Selflessness is an important part of army service in Vosburg. Part of this service to Vosburg is doing your job well and trusting those around you to do their job well. Vosburg said that while in the Reserves, he received questions about his opinion about the decisions people in political office and on active duty have made and whether they should be removed from their posts.
"When you're on active duty, one of the things you are told is that we stand up for the constitution, it doesn't apply to us. We are outside of that. All of your judicial rights and things of that nature come from the constitution. As a soldier, all of us are protected by the Uniform Code of Military Justice which is in some ways as good or even better, but we have no choice, "Vosburg said. "When you read the oath, the first thing is the constitution, and then it's the orders of the President of the United States and everything in between. These are all after. The constitution is our first concern.
Those who held high positions when Vosburg served served and protected the constitution just like him. Those above him had different skills and backgrounds, but were chosen for their work just as Vosburg was chosen for his. Did they make the right decision? Should they have shot down the planes before they crashed into the World Trade Centers?
"I can't say they're right or wrong," Vosburg said. "I never had this job. My job has been to make sure the lines of communication go through.
So, with his story, thoughts, and emotions in mind, here's how David Vosburg deals with how he "killed" them all.
"Technically my job was responsible for everything, the good and the bad. Each medical evacuation [helicopter] who took off and rescued soldiers was brought by our communications. Every order to kill someone went through our communications. So I don't dwell on it because I can't control it. My job was to make these communications work. Those I protected and served far outweighed what I didn't know.
[ad_2]