George RR Martin provides update on 'The Winds of Winter'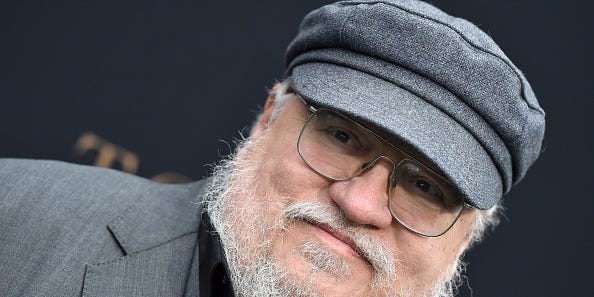 Procrastinators, bosses, degenerate students, lend me your ears. Have you ever added extra spaces on an essay to meet a minimum page requirement? Did you sneakily increase the font size of the dots to increase the number of pages? You said you were working to a deadline when you were definitely not?
If that sounds like you, then come sit next to George RR Martin. Martin, you may recall, is suffering from the most public case of writer's block in human history. He wrote The Winds of Winterthe highly anticipated penultimate volume of his game of thrones series, since at least 2010 – and lately, as if to make up for over a decade of missed deadlines, he's been vocal about how the book is worth the wait (funny, I think I said the same thing to my British Literature teacher when I needed an extension). To Dragon House's at San Diego Comic-Con this Saturday, a fan asked Martin if he would be making an appearance in the upcoming game of thrones spin off. Martin explained that he hasn't really left his house lately, in part because of "this book I'm writing." Marin said, "I'm not going to a show or doing anything [like that] until I'm done." We'll hold you back, George!
Well, about all that. How did Martin get into this hole? Allow me to take you back in time, dear reader, on a journey through the ghosts of past timelines. Our story begins in 2010, when Martin cheerfully announcement on his blog that four chapters of The Winds of Winter were complete. Then, in 2011, the first rumblings of trouble: in an interview with Weekly entertainmenthe decreases to give a timeline on when fans might expect the sixth book, saying, "There's an element of fans who don't seem to realize that I'm making guesses. I've been repeatedly guilty an excess of optimism. How young we were in 2011! What naivety!
In 2012, speaking with the Spanish blog Adria's newsMartin claims this The Winds of Winter would happen in 2014, despite making this promise, "I'm really bad at predictions" (wait, that's going to become a theme). Then, after 2014, came and went without winter winds, Martin's editor poured cold water on fans' heads. "I have no information on likely delivery," Jane Johnson of HarperCollins Told The Guardian. "These are increasingly complex books and their writing requires immense concentration. Fans should really understand that the length of these monsters is equivalent to two or three novels by other writers. Do you hear that, everyone? We should just be grateful and stop taking the guy on his word.
In March 2015, Martin Told To access, "I still have a lot of pages to write, but I also have a lot of pages that are already written." Spoken like a real student. Then, a month later, he told Weekly entertainment that he hoped to release the book in the spring of 2016 to coincide with HBO's sixth season game of thrones, saying"Maybe I'm too optimistic about how quickly I can finish. But I've canceled two convention appearances, I'm turning down a lot more interviews – anything I can do to clear my cards and to get things done. But hardly 2016 happened that it said in January of that year, "I'm not going to set myself another deadline to stumble on. Deadlines stress me out. I'll try that one on my editor next time. The fans were alarm in September 2016 during the listing of Amazon France The Winds of Winter with a March 2017 release date, but according to HarperCollins, it was a big old nothing.
Cut to January 2017, when Martin insisted it would definitely be his year: "I think it will come out this year. (But hey, I thought the same thing last year)," he said. wrote on his blog. But then he continued to play with the fans, writing"I'm still working on it, I'm still months away (how many? good question), I still have good days and bad days, and that's all I want to say… I think you'll get a Westeros book of me in 2018…and who knows, maybe two. A boy can dream…" How about finishing a book, sir, and then we'll talk about two?
In June 2018, it was announced that HBO had ordered a pilot for the first of many game of thrones spin-offs, and that Martin was co-writing the pilot. Fans eagerly awaiting his next book were understandably worried, so he took to his trusty blog to reassure them: "Work on winter winds continues and remains my top priority", Martin wrote. "It's ridiculous to think otherwise." Ridiculous!
Then, 2020 brought the perverse answer to fans' prayers: the pandemic forced everyone into self-isolation, and eventually, Martin found himself stuck at home with nothing to do but write. "If nothing else, the enforced isolation helped me write," he said. commented on his blog. "I spend long hours every day on The Winds of Winter, and progressing steadily. I finished a new chapter yesterday, another three days ago, another the week before. But no, that doesn't mean the book will be finished tomorrow or published next week. It's going to be a huge book, and I still have a long way to go.
Martin wasn't kidding when he said he had a long way to go. In June 2021, he seemed downright furious about being held accountable for all of his missed deadlines, writing on his blog, "I won't make any predictions about when I'll finish. Every time I do, the internet assholes take it as a 'promise', then wait impatiently to crucify me when I miss the deadline. All I will say is that I'm hopeful.
About those assholes on the internet (could he be talking about me?) – Martin seems really sick of hearing about them. In an interview with IGN, he spoke about the pressure he is under from thrones fandom, saying"I understand winter winds, the sixth book, is late. I could have a hundred good comments, but there are still a few fans who will remind me on my blog; I say, 'Happy Thanksgiving' and they say, 'Never mind, Happy Thanksgiving, where's the book?' I love the fans, though I think Twitter, the internet, and social media have brought out a naughtiness that I've never seen before. Love and hate are very close, especially with something like the comics or any established franchise." If you can't stand the heat, sir, why not just finish the book?
Now, Martin seems to have a new strategy: teasing readers with clues about the book's content to distract from his backwardness. In a new blog post, the author explained where the book and TV series will diverge. "An architect would be able to give a short, concise and simple answer to this, but I'm much more of a gardener," he said. wrote. "My stories grow, evolve and change as I write them. I usually know where I'm going, of course…the final destinations, the big settings, they've been my head for years…for decades, in the case of A SONG OF ICE AND FIRE There are a lot of demons in the details, though, and sometimes the ground shifts beneath my feet as the words pour out.
It also looks like The Winds of Winter and A song of ice and fire (the next final volume of the series – I don't even want to talk about it) may have a different body count than the TV series. "One thing I can say, in general enough terms to not spoil anything: Not every character that survived to the end of GAME OF THRONES will survive to the end of A SONG OF ICE & FIRE, and not all characters who died in GAME OF THRONES will die in A SONG OF ICE & FIRE," Martin continued. "(Some will, of course. Of course. Maybe most. But certainly not all) ((Of course, I might change my mind again next week, with the next chapter I write. It' is gardening)) And the end? You will have to wait for me to arrive. Some things will be the same. Many will not.
But George, when are you going to get there? It takes us back to the present day, with Martin insisting that his super-long, super-awesome, very-near-to-the-end book is worth every missed deadline. We hope for the best, even though it seems there is no end to Martin's agony in sight. Hey, my friend, have you heard of Procrastinators Anonymous? Maybe they can help.
This content is imported from OpenWeb. You may be able to find the same content in another format, or you may be able to find more information, on their website.