Last Storybook Trail Opens in Shopville | New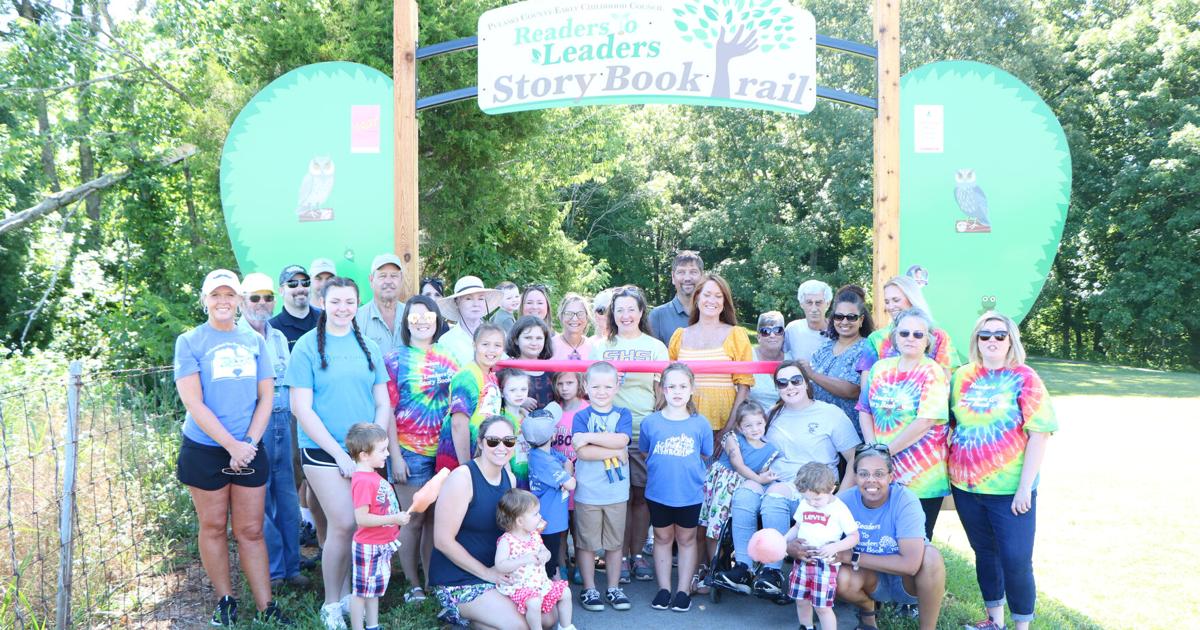 Better late than never when it comes to reading a good book.
The Readers to Leaders Story Book Trail was supposed to go to Shopville Community Park in eastern Pulaski County in May, but rainy weather made it a bad day to get out and enjoy the park's surroundings.
Saturday's conditions were much better, however, and the final trail – which places portions of a children's book along a walking path and allows individuals to read while walking the route – was opened as part of a global celebration of youth literacy at the park.
Hosted by KET (Kentucky Educational Television, part of the Public Broadcasting Service, Shopville experimented with "Roll and Read", pulling out a van full of stuff for the kids to enjoy. They partnered with Pulaski County
Parallel to the event, the inauguration of the new reading route took place. The Readers to Leaders Trail is a project of the 2020 Leadership Lake Cumberland Class of 202. Each leadership class, organized through the Somerset-Pulaski County Chamber of Commerce, initiates a community project, and the Class of 2020 has so far been able to fundraise for a number of readers at Story Book Trails leaders in Pulaski County Parks.
The Shopville trail marks the sixth, and there is another waiting to be installed in Woodstock Park, which is scheduled to take place next Saturday.
"Kids basically get to walk and read (the book around) the trail," said Kristin Whitson, who is part of the leadership class. "We will change the books from time to time so that there are new books. Each trail will have different books; if you go to different parks, the children will be able to discover (a variety of stories)."
Shopville Park's first book is "Violet," written and illustrated by Kentuckian J. Hammond, the story of an adventurous young girl with a big imagination.
Jessica Carlton, from the leadership class, said "Roll and Read" involves stations where different books are read to children – roll from one to the other.
"(It's about) anything we can do to promote reading, get kids out, encourage parents to read to their kids," Carlton said.
KET's Amanda Wright said the station has a new Ready To Learn grant from the U.S. Department of Education that helps them use fun learning activities to promote literacy, like they did in the shelter on Saturday. Park.
"We're partnering with the regional Parents as Teachers collaboration here in Pulaski County to bring that to … families and children here today," she said. "This grant really gives us the opportunity to do work in the communities (like Pulaski County). It's a great community, you all have a lot of resources, and we want to add resources and activities for families. ."
The Parents as Teachers program (via Pulaski County Schools) means educators work with parents to help them both interact with their children's personal development and learn skills to help the whole family. Member Carrie Altmaier said the local group was part of a national program. On Saturday, she said they were encouraging families to go all the way from readers to leaders to read an entire book along the trailer, and also mentioned a few other reading stations. She also noted the information on how to help parents read to their children and how to talk about books.
"The idea is that when children and families read together, it not only encourages strong literacy skills, but also family bonds," Altmaier said. "…When parents bond with their children, it helps brain cells connect and be strong."
Another group involved on Saturday was the Pulaski County Community Early Childhood Council. Christie Adams, representing the group as chair, said her goal was to provide families with opportunities to engage with each other and do educational activities together. They try to offer a free activity every month, and that's what happened on Saturday. The Council sponsored the Literacy Trail and provided free books to children who attended on Saturdays.