Sand City's Ginearosa Carbone adds a medical school graduate to her list of accomplishments. | Face to face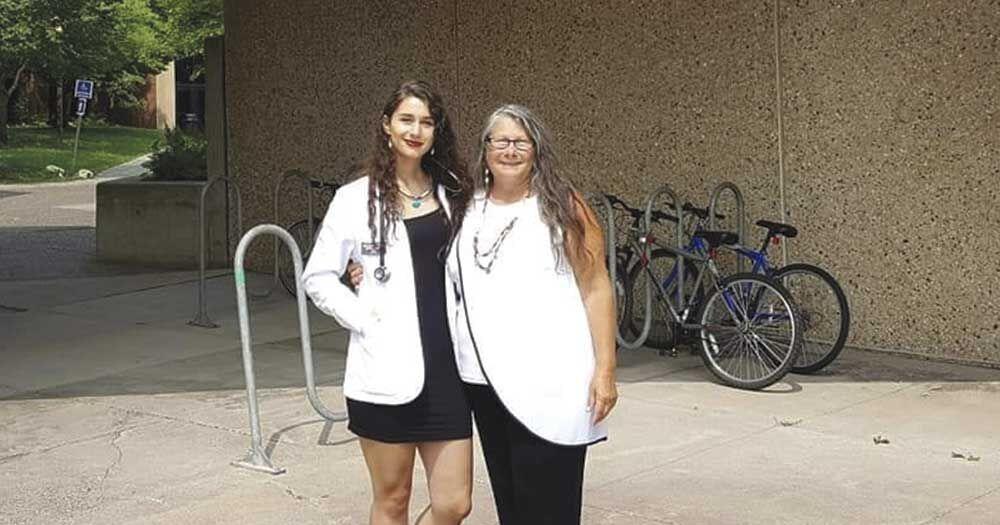 Medical school couldn't stop Ginearosa Carbone from taking advantage of his other interests. She continued to play music, dance, and write between her studies at the University of Minnesota-Duluth. A native of Sand City — his mother, Mary Ann, is the city's mayor — Carbone has an eclectic range of interests. From a young age, she participated in powwows, for example, an activity encouraged because the mother side of the family is of Chumash ancestry. "I grew up in the Chumash culture," says Carbone.
A graduate of Monterey High School, Carbone attended Monterey Peninsula College before completing her studies in microbiology at UC Davis — with a minor in Native American studies. She chose the Duluth campus for her medical school because of the school's tribal and rural health initiatives. the Weekly caught up with Carbone by phone from Minnesota less than a week after "game day," when graduates learn of their destination for medical residency, the next step to becoming a doctor. Her training in internal medicine begins at Santa Barbara Cottage Hospital in June. Of her return to California, she said, "I'm ready to eat delicious seafood again – not giving a damn about the big walleye here."
Weekly: Tell me about your upbringing.
Carbone: It was definitely different. We have been involved in the powwow circuit for a long time. Since I was a child, I sing and dance. The powwow is a good time. You spend time with your family and friends, you reconnect with your roots. My mother makes jewelry and people set up stalls. It's been great fun for me since, my God – there are pictures of me at 3 years old at pow wows.
What's it like to have a mother in local politics? You call him mayor?
I call her Mayor Ann – you know, Mary Ann. She served for a long time as vice-mayor. I remember sitting in the back at city council meetings doing my homework while they played nonsense.
People think of Sand City as warehouses, stores and big box stores.
Sand City is a small place, but it's a nice place. It's near the beach. There are cool cafes like Sweet Elena's – I worked there for a while – where you can eat a galette. My mum helped start the West End celebration. Good to see Sand City integrated with the rest of the community.
Why medical school?
It's always been in my head. But when you don't have firm college plans and enroll in MPC on a whim, you don't know if it will work. I idolized doctors. At MPC I took a biology class and Dr. D. – I don't think I know his name – made it interesting. Dr. D. encouraged me to apply and I went to UC Davis. I realized that was a possibility.
Medical school debt is one of the problems young doctors face. Does this worry you?
I don't think that worries me. Debt is part of the plan, you know it will be there. I kept it low by doing odd jobs during school to try to pay off some of it. I'm not in as bad a situation as the others. Being able to help the community far outweighs concerns about debt.
Apart from medicine, what do you do?
Music occupies a very important place in my life. I'm a really big metal head – yeah. I like to play music. I play guitar and drums. I even formed a little band in medical school called Docapocolypse, a metal cover band. We performed in cafes, we performed in the school talent show and won first place every time. I had unique interests growing up and my parents encouraged that. If I wanted to go horseback riding next week they would sign me up for a lesson. If I wanted to do iaido – Japanese sword and dagger work – they would sign me up for a class. Monterey has a lot to offer.
Definitely. Is there anything else?
I'm working on a novel. It's about being a medical school student, which they don't tell you. It's almost done. I'm at 60,000 words. The goal is to publish before my residency.
What is the most important lesson you have learned so far in your life?
The most important thing is to never give up. You can do it if you work hard enough. Your community and the people around you are more willing to help you than you think.