Sharjah and North Macedonia discuss key areas of trade and cooperation.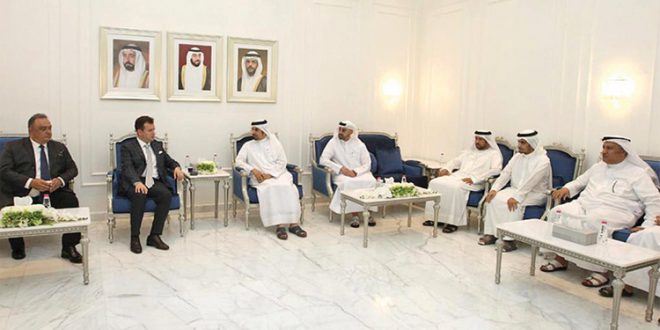 The Sharjah Chamber of Commerce and Industry (SCCI) held a business meeting with the Embassy of the Republic of North Macedonia in the United Arab Emirates and the Sharjah Trade and Tourism Development Authority (SCTDA ), in the presence of a group of elite businessmen and the tourism sector. representatives.
The meeting took place due to the visit of an economic delegation from North Macedonia to the emirate of Sharjah, during which the SCCI underlined the tourist attractiveness of the emirate and promoted its distinct place on the safe world tourism map.
The recent meeting held at SCCI was chaired by Waleed Abdul Rahman Bukhatir, Second Vice President of SCCI; Khalid Jasem Al Midfa, Chairman of the Sharjah Trade and Tourism Development Authority (SCTDA); Igor Popov, Ambassador, Director of the Directorate of Economic and Public Diplomacy at the Ministry of Foreign Affairs and Co-Chair of the Joint Working Group on Trade and Investment between the United Arab Emirates and the Republic of North Macedonia; Abdulkadar Memedi, Ambassador of the Republic of North Macedonia to the United Arab Emirates; Nasser Musbah Ahmed Al-Taneiji and Halima Hamid Ali Al-Owais, SCCI Board Members; Mohammed Ahmed Amin Al Awadi, Managing Director, SCCI; Ibrahim Rashid Al Jarwan, director of economic relations and marketing at SCCI; and Fatima Khalifa Al Mokarrab, director of the international relations department of SCCI.
In his remarks, Waleed Abdul Rahman Bukhatir underlined: "The areas of bilateral cooperation between Sharjah and North Macedonia are very diverse. There are many potential opportunities to expand this cooperation in several different areas, including the tourism sector, which is undergoing significant transition. As this sector continues to recover from the COVID-19 pandemic, global tourism is also recovering and accelerating its growth trajectories.
"Furthermore, both countries possess competitive and distinct characteristics as leading tourism destinations, with Sharjah's development tourism model representing a new and innovative approach to establishing tourism strategies with long-term development implications. As a result, the tourism sector's contribution to the emirate's economy constitutes 15% of its output, and the emirate is keen to develop creative initiatives that promote tourism services and products," Bukhatir added.
Abdulkadar Memedi also highlighted his country's ambition to expand ties with the emirate of Sharjah in all areas, especially tourism, due to the fact that the two nations are known for their distinct and diverse tourist attractions. He also underlined the importance of such a meeting to explore the tourism characteristics of the emirate and strengthen cooperative relations.
"The strategy of the Republic of North Macedonia is to attract tourists from Arab Gulf countries, with a target of 2 million 600,000 visitors this year and 3 million 200,000 visitors in 2023. This is due to the fact that it is ranked fifth in the world for attracting foreign tourists," Memedi further emphasized.
Additionally, Ahmed Rashid bin Sheikh, Head of European Market Division at SCTDA, highlighted Sharjah's most important tourism features, saying the emirate has seen a tremendous transition in such a vital sector over the past few years. , with many environmental, heritage, and investment tourism projects being established.
He added that Sharjah has also developed the hotel sector, with over 100 hotel establishments, over 10,000 rooms and a variety of hotel categories; as a result, the hotel occupancy rate reached more than 120 million Dhs in the first quarter of this year. He also noted some of the biggest projects done in the emirate, such as Sharjah Safari, which is considered the largest safari park outside Africa, with 12 different environments.
Additionally, Sharjah has an international airport which will be expanded in 2024 to attract over 20 million visitors instead of 8 million.
Meanwhile, as part of its efforts to redefine the leisure and travel landscape of Sharjah and the region with an exciting expansion of portfolio offerings, Sharjah Investment and Development Authority (Shurooq), has revealed details of its upcoming large-scale integrated development project in the Eastern Enclave of Khorfakkan comprising a 5-star hotel, the first water park in the Eastern region and over 200 residential units.
Scheduled for completion in 2024, the 5-star luxury hotel project, operating under Marriott International's Autograph Collection and built on 38,000 sq.m. opposite Khorfakkan Port, will include 75 luxury units, swimming pools, restaurants and a gym. prom for special occasions.
The accommodations on offer include 62 single rooms, 5 double rooms and 8 deluxe suites offering stunning views of the Arabian Sea and offering unparalleled luxury to visitors to the tranquil eastern enclave.