Storybook Day: Sophomore blasts 3-run homer, Triton holds on to beat rival Newburyport | Sports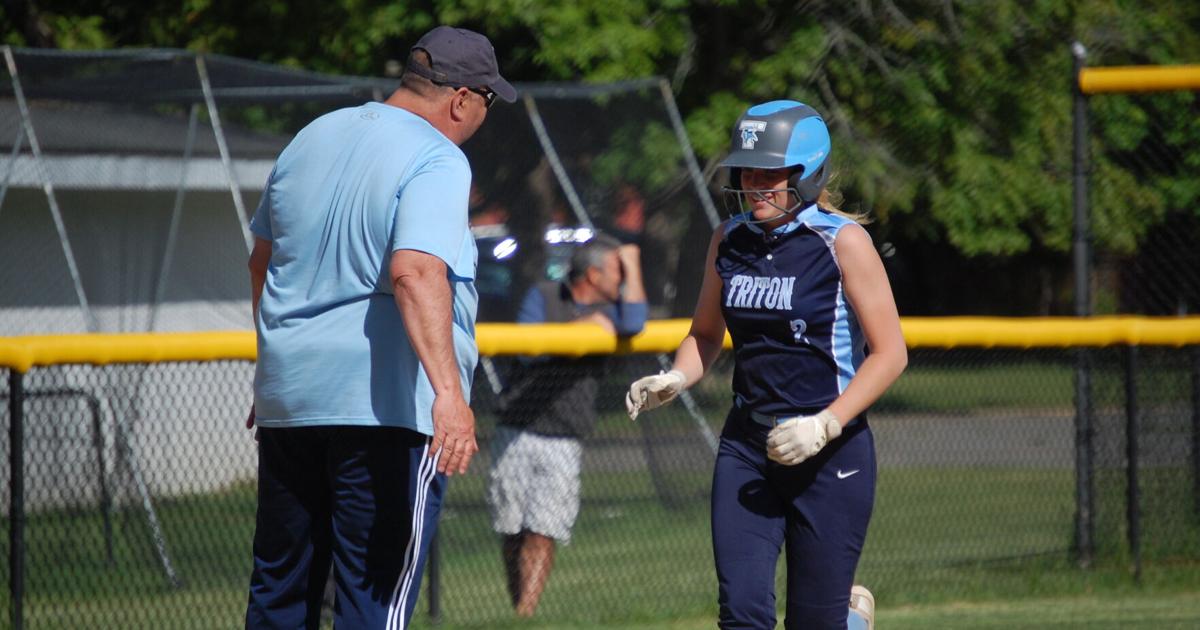 NEWBURYPORT – It wouldn't be a Triton v Newburyport rivalry – in any sport – if there wasn't drama at the end, would it?
Well, add Monday's softball game to the long list of nail biters.
Leading 6-1 late in the seventh inning, everything seemed locked in for the visiting Vikings and freshman pitcher Emma Penniman.
Not so fast.
Needing a rally, Maddie McLeod and Keira Dowell started the inning with back-to-back singles, and two batters later Cassidy Bolcome ripped up a hit that scored a run. Then, after Emily Meleedy walked to load the bases with two outs, Emma Keefe blooped a single to right field that tackled a pair to make it 6-4 while bringing the potentially game-winning run home.
But Clipper's return was not to be.
And it's all thanks to Triton wide receiver Skylar Colburn, who had already sent someone off trying to steal second place earlier in the game. After the first pitch to Sophie LaVallee of Newburyport, Colburn made a quick and accurate throw to third base. Third baseman Grace Romine applied the tag before the runner returned to the sack, and the Vikings could breathe a sigh of relief after holding on for the 6-4 win over their rivals.
Victory – by pickup – secured Newburyport's sweep by Triton this spring.
"It means a lot to us because last year we didn't do very well against them," said Kyla Story, who hit a crucial three-run homer in the win. "But this year we have done much better against tougher competition."
This second sentence in particular hits the nail on the head firmly.
Triton (14-5, 10-2 CAL) has played great softball this year, and against elite competition. Case and point Friday, when the Vikings faced a historically good Amesbury team and had the tying run on third base at seventh in an eventual 2-1 loss. Amesbury pretty much demolished everyone who played this spring, but the Vikings had him on the ropes.
Yes, it was still a loss.
But anyone who gives Amesbury that good game this year has got to be a very…very…good team, which Triton has proven.
"They're growing up and they're playing hard for each other," Triton coach Alan Noyes said. "They don't try to play outside of their skill set. We always try to play it safe and get an out. The quicker we get to 21 outs without leaving that many runs, the better we get the result we want. ."
Story, a Daily News All-Star from a year ago, is one of many strong bats in the Vikings lineup.
A 2-1 game early in the third inning, the second took a fastball high and inside and belted it over the fence to left center for a 3-point shot. It was his second home run of the year and scored Maddie Jacques and Izzy Oldoni.
"We communicate well on the field and we hit continuously," said Story, who went 2 for 4 that day. "When one person knocks, others start knocking, then the energy skyrockets."
The Vikings also have the luxury of a 1-2 punch with Mallory Johnson and Penniman, both of whom are excellent hitters. On Monday, it was Penniman who took the start and the victory. She had allowed just five hits and only one through the seventh, and was able to keep her cool under pressure to finish the inning.
"Emma throws well," Noyes said. "We're able to get by because we've got two good pitchers. We would have done well to pitch Mallory, but (Newburyport) haven't seen that many Emma lately so we threw her there and she behaved very well."
Newburyport (9-10) got their first run on a solo shot from Grace Habib in the second inning that made it 2-1. Meleedy, back from an elbow injury, pitched well despite the loss. Only three of her runs — Story's home run — were earned, and she allowed just four hits with six strikeouts.
"They never give up," said Newburyport coach Bob Gillespie. "I can complain all I want about the way they played at the start of the game, but there's just something about them that every game we're in, they always seem to come back. We've hit a little better towards the end of the game. We were a little slow at the start but give credit to Triton's pitcher. She knocked us off balance today.
Triton can clinch a share of the CAL Kinney title with a victory over Pentucket on Sunday (10 a.m.).
---
Triton 6, Newburyport 4
Newt (6): Maddie Jacques 2b 3-1-0, Izzy Oldoni cf 4-2-1, Kyla Story ss 4-1-2, Mallory Johnson rf 4-0-0, Haleigh Harris 1b 1-1-0, Skylar Colburn c 3- 0-0, Emma Penniman p 3-1-0, Reghan Haley lf 3-0-1, Grace Romine 3b 3-0-0. Totals 28-6-4
Newbury Port (4): Nieve Morrissey cf 4-0-2, Cassidy Bolcome lf 4-1-1, Emily Meleedy 2-0-0, Emma Keefe ss 4-0-2, Sophie LaVallee 3b 3-0-0, Grace Habib c 3-1 -1, Maddie McLeod 2-1-1, Keira Dowell rf 3-1-2, Olivia Skibbee dp 3-0-0, Lea Quintiliani 1b 0-0-0. Totals 28-4-9
RBI: T — Story 3, Haley; NOT- Keefe 2, Habib, Bolcome
HR: T — Narrative; NOT- Habib
WP: Penniman; LP: Melee
Newt (14-5): 2 0 3 0 0 1 0 — 6
Newburyport (9-10): 0 1 0 0 0 0 3 — 4