The heroic story of a Ranger and the battle that defined WWII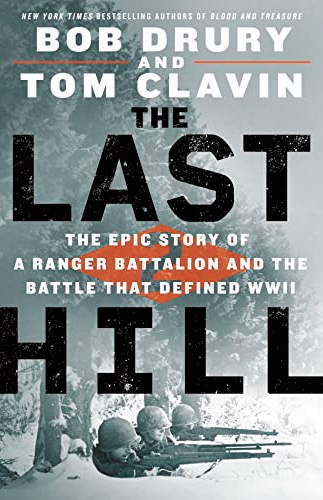 Ronald Reagan made the 2nd Ranger Battalion famous with his 1984 "Boys of Pointe Du Hoc" speech. There he extolled the exploits of the Rangers who scaled these heights on D-Day, June 6, 1944. Many have since believed that the Rangers began and ended their World War II efforts on that day in June.
In fact, the battalion faced challenges throughout 1944. "The Last Hill: The Epic Story of a Ranger Battalion and the Battle That Defined WWII", by Bob Drury and Tom Clavin, shows that D-Day n t was just the beginning of the battalion world. World War II battles.
Their greatest challenge came six months later, in December 1944, during the Battle of Hurtgen Forest. The battalion's 512 men were ordered to take and hold Castle Hill, a 1,320-foot-tall flat-topped mound that once housed a medieval castle. Key to the Hurtgen battlefield were several Wehrmacht regiments defending the hill. Holding it was essential to the next German offensive in the Ardennes. The US 28th Infantry Division, 30 times larger than the Ranger unit, had tried and failed to take it.
Drury and Clavin show why US Army commanders gave the task to the Rangers: it was based on the unit's past performance. The book covers the history of the 2nd Ranger Battalion throughout the war.
The authors begin by presenting the initial organization and training of the battalion in the United States. They show how the arrival of Lieutenant Colonel James Rudder changed everything. Rudder, a Texas A&M graduate and pre-war football coach, transformed the trainees from a collection of oddballs into a finely-honed fighting unit. The book follows the Rangers in Europe, showing their combat exploits between June and December 1944. They fought on D-Day and helped liberate the fortified French port of Brest before heading to Hurtgen Forest.
The heart of the book is their struggle for Castle Hill. Rangers arrived at Hurtgen Forest on November 14 and fought for a month. Of the 130 Rangers occupying the hill, only 16 made it out the other side unscathed. "The Last Hill" offers readers a gripping tale of men in battle that will keep you reading until the end. Drury and Clavin provide a poignant reminder of why soldiers who fought in World War II have been called the greatest generation.
"The Last Hill: The Epic Story of a Ranger Battalion and the Battle that Defined World War II", by Bob Drury and Tom Clavin (St. Martin's Press, 2022).
This article originally appeared in American Essence magazine.