The Unity Books bestseller chart for the week ending April 29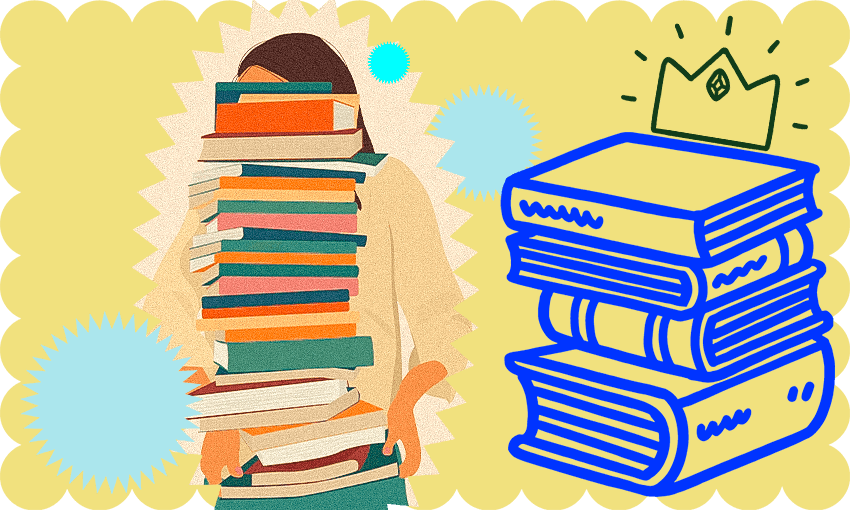 The only best-selling independent books chart published and available in New Zealand is the Top 10 list recorded each week at Unity Books stores in High St, Auckland and Willis St, Wellington.
AUCKLAND
1 Grand: Becoming my mother's daughter by Noelle McCarthy (Penguin, $35)
Another week with Grand Local Memories in the lead. Dip your toes with Noelle's essay and editor Catherine Woulfe's reviewthen dive headfirst into the dark, icy waters of McCarthy.
2 Young Mungo by Douglas Stuart (Picador, $38)
A turbulent love story between two young men living in the housing estates of Glasgow, one Catholic and the other Protestant. Kirkus Reviews writes that their reader was hesitant to return to the difficult world of Shuggie Bain, but the author "creates such vivid characters, such harrowing dilemmas, and such brilliant dialogue that it all sucks you in like a vacuum cleaner".
Is it a good thing to be sucked into a vacuum cleaner? You decide.
3 imagining decolonization by Rebecca Kiddle, Bianca Elkington, Moana Jackson, Ocean Ripeka Mercier, Mike Ross, Jennie Smeaton and Amanda Thomas (Bridget Williams Books, $15)
Hello again, big poppy.
4 Kurangaituku by Whiti Hereaka (Huia Editors, $35)
Kurangaituku is a retelling of the famous myth, Hatupatu and the Birdwoman.
Here is essa may ranapiri from a moving review posted on this spin-off here: "Kurangaituku allowed me to see myself within te ao Māori in a way that I had not before. Kurangaituku is unambiguously queer and possibly ambiguously female and definitely a storyteller. There are so many scenes in this book that fired me up.
Kura is rightfully shortlisted for the Jann Medlicott Acorn Prize for Fiction and she's top of our list to win. Just a little bit more of a wait now: winners of this and other Ockham Prizes will be announced on May 11.
5 Clara and the sun by Kazuo Ishiguro (Faber & Faber, $23)
Ishiguro is the king of heart-pounding fiction, and his latest dystopian novel is no exception.
6 The bookstore at the end of the world by Ruth Shaw (Allen & Unwin, $37)
A local memoir, detailing a life filled with adventure, trauma, risk – and book sales. The Guardian sums up Ruth Shaw's chameleon-like array of roles: "pig farmer, navy deserter, lone sailor, illegal gambler, environmentalist, chief archbishop, psychiatric patient, failed escort. She was arrested twice and married four times.
Now she runs the Wee Bookshop in Fiordland, aka World's End. (Content warning for rape and baby loss.)
7 Greta and Valdin by Rebecca K Reilly (Te Herenga Waka University Press, $35)
Shortlisted for acorn and the only one that really rivals Kurangaituku, in our book.
Here is a review.
8 What you can see from here by Mariana Leky (Bloomsbury, $27)
A best-selling German novel, recently released in English. Filled with omens and superstitions, German village life and the absurdity of death, Munich Mercury says Leky's novel "achieves something that only a few books achieve: it makes you happy". To be frank, that doesn't sound like the ingredients for happiness to us – but hey, we're not Germans.
9 Actions and travels: how poetry works by Anna Jackson (Auckland University Press, $35)
Anna Jackson explains how poetry works, with the help of 100 Great Poems.
ten Tangle by Bryan Walpert (Mākaro Press, $35)
A third Acorn Prize runner-up has been chosen by Auckland readers, and of them, Entanglement is perhaps the mellowest. Book editor Catherine Woulfe gave a less than glowing review: "I was excited because it's published by Mākaro Press, aka the home of Auē and Victory Park, two award winners and great reads. But the entanglement? The best I can say is this: This is most likely a book that rewards perseverance. I tried five times and couldn't get past page 99; this year, now, very unfairly, I simply have no more perseverance to offer.
Ockham's judges liked it, though – this is what they said during the pre-selection: "Dazzling with intelligence and ambition, Entanglement spans decades and continents, explores the essence of time and delves into such complex subjects as quantum physics. But at the heart of Bryan Walpert's novel is the human psyche and all its intricacies. A writer plagued by two tragedies in his past reflects on where everything went wrong, and his desperation brings him back to Baltimore in 1977. A novel that isn't afraid to ask tough questions and a novelist who doesn't want to associate with his readers.
Now all you have to do is decide if you're on Team Woulfe or Team Ockham.
WELLINGTON
1 Architecture of Wellington: A Walking Guide by John Walsh and Patrick Reynolds (Massey University Press, $25)
Buy a little book, take a short walk, and fill yourself with a new appreciation for your city.
2 Grand: Becoming my mother's daughter by Noelle McCarthy (Penguin, $35)
3 Fragments of a contested past: memory, denial and New Zealand history by Joanna Kidman, Vincent O'Malley, Liana MacDonald, Tom Roa and Keziah Wallis (Bridget Williams Books, $15)
"What a nation or society chooses to remember and forget speaks to its contemporary priorities and sense of identity. Understanding how this process works allows us to better imagine a future with a different or broader set of priorities.
Another jewel in BWB's local non-fiction crown.
4 Accommodation by Jenny Patrick (Black Swan, $36)
Local writer Jenny Pattrick has published a new novel, based on the settlement of Wellington in the 1830s. Three narrators paint a rich picture of the era – a Welsh immigrant and pimp from Maori land, working for Colonel Wakefield; his wife, Martha, traveling by boat to meet her husband; and a woman, Hineroa, who became a slave to Te Rauparaha after losing her tribe in battle. Local Matters gives a thumbs up: "Jenny Pattrick is adept at crafting warm, likable characters and that, along with the interesting historical narrative, means this novel is a joy to read."
5 Among our weapons by Ben Aaronovitch (Gollancz, $38)
The new novel Rivers of London, which The Times hails as one of the best in the series. The Guardian writes that "Aaronovitch has no peers when it comes to successfully combining the appeal of down-to-earth police procedurals with total fantasy: here are real places, real history and real problems complicated by the existence of magic, ancient spirits, fairies, ghosts, and talking foxes, all living alongside ordinary, ignorant humans.
6 imagining decolonization by Rebecca Kiddle, Bianca Elkington, Moana Jackson, Ocean Ripeka Mercier, Mike Ross, Jennie Smeaton and Amanda Thomas (Bridget Williams Books, $15)
7 Greta and Valdin by Rebecca K Reilly (Te Herenga Waka University Press, $35)
8 Young Mungo by Douglas Stuart (Picador, $38)
9 meat lovers by Rebecca Hawkes (Auckland University Press, $25)
This year's Spinoff Review of Books award for Blurbology goes unreservedly to AUP for the following:
"Meat" is a coming of age in which pony clubs, orphaned lambs, and the delirium of the dairy barn are steeped in playful menace and bizarre desires. Between bottle-fed care and slaughter floors, the farm is an intoxicating setting of love and death.
In "Lovers," the poet takes an ironic look at romance, from youthful Sapphic infatuation to seething bestiality. The sentimental intensity is anchored by an introspective comedic sequence, in which "the stars are looking at us / and damn it, they're judging".
This collection of nauseous hungers features a feast of explosive hash and cheese pies, accusing crunches, lab-grown meat and beet tempeh burger patties, all washed down with bloody milk or a clair de apple moon. It's teeming with sensual life, from domesticated beasts to the swaying mysteries of eels, as Hawkes explores the difficult relationships with our animals and each other.
Tender and brutal, seductive and repulsive, Meat Lovers introduces a captivating new mode of hardcore pastoral.
ten Conversations with friends by Sally Rooney (Faber, $23)
The second-born Rooney. Conversations launches as a Hulu series in mid-May, so we might see it lurking among the bestsellers for a while – prepare for weeks of fun commentary.