Yae Miko Story Quest Answers (Act I)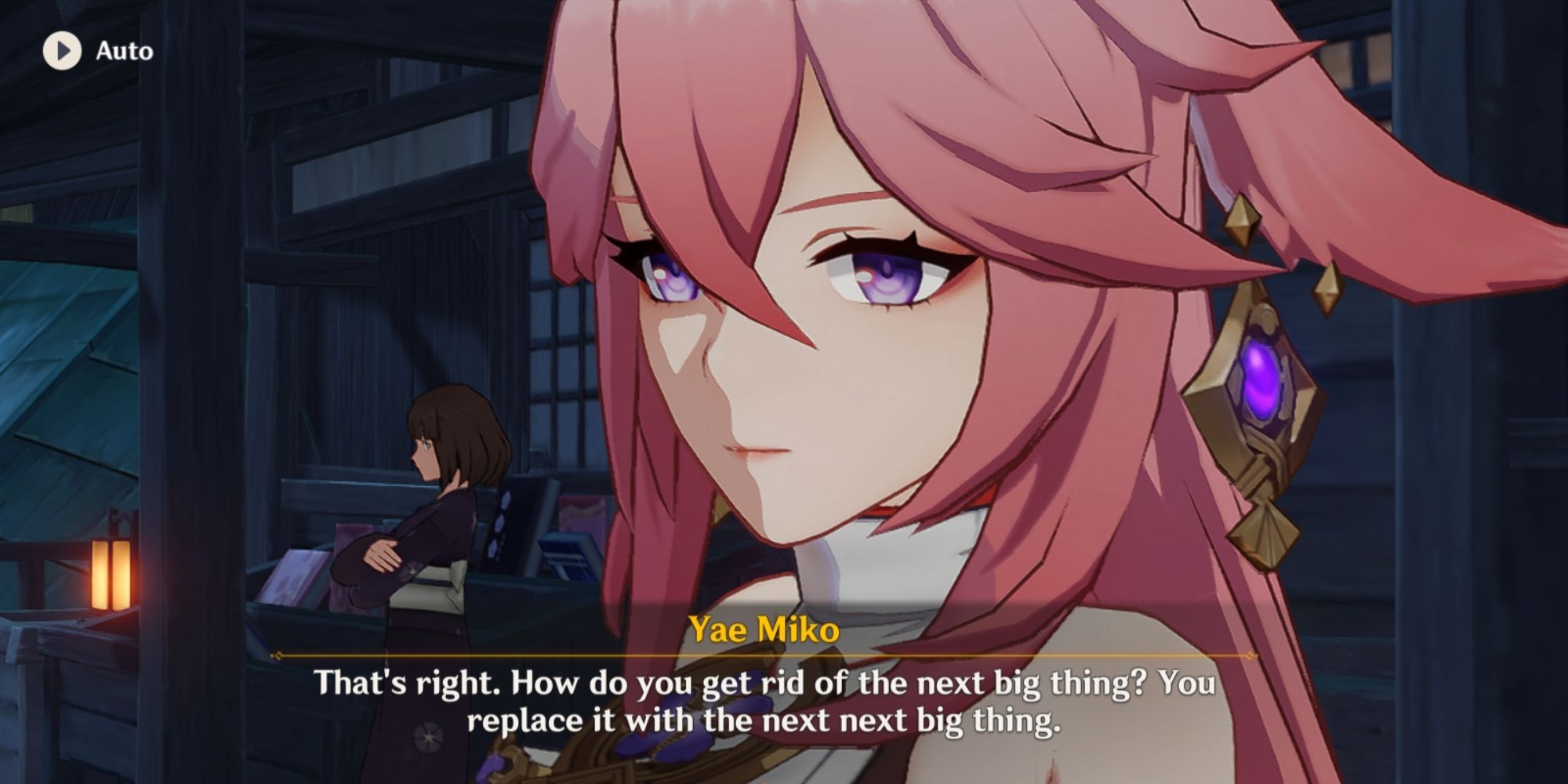 The quest for Yae Miko's story in Genshin Impact, the Divina Vulpes: Act I chapter, will lead to a scene where players have to think about a new light novel. In this segment, travelers will receive three responses from three option groups. Each choice will result in a different response from Yae Miko.
Yes Genshin Impact players are wondering what is the correct answer in Yae Miko's story quest, then they can follow this article to understand all the results.
RELATED: Genshin Impact: Yae Miko's Ascension & Talent Materials List
Yae Miko Story Quest Answers in Genshin Impact
In Act I of Yae Miko's Story Quest, she asks players to choose chapter titles for a new light novel. Players must choose three answers from a total of nine options. Here are the results for each.
For the first batch of responses, the options are:
"Reincarnated in Another World: Encounters with Airborne Emergency Rations"
"The Shy Bard at Work"
"The Dragon and the Great Adventure"
For the first and third answers, Yae Miko gives them 9 points out of 10. As for the second answer, she will give him a 9.5.
Before choosing the second and third answers, players must go through a small stage facing "writer's block". Travelers will also see an iconic line from Yae Miko on this. Then back to business.
Here is the second batch of answers for Yae Miko Story Quest in Genshin Impact:
"I took a trip to Liyue, the tour guide turned out to be Rex Lapis"
"Rock 'n' Roll Girl!!!"
"I turned into a newborn Geovishap!"
For the second and third answers, Yae Miko gives a 9.5. Meanwhile, the first answer leads to a score of 9.8.
The last option group has no scores, but to rank the answers from best to worst, it would be: second, third, then first option.
"Stuff This! Come on, let's get rid of that Vision Hunt decree!"
"Farewell, Literature Hunt Decree!"
"Start as a Resistance soldier"
Anyway, Yae Miko will change the title to "The mysterious Lady Kitsune teaches the protagonist a spell that can grant their wishes. The protagonist uses this spell to defeat the Raiden Shogun in battle."
To conclude, it doesn't matter which option players choose in Yae Miko's Story Quest. All the answers in the first two groups are all "correct", while the last batch will lead to the same title revision. However, the Guuji made a different point about each choice, so travelers should pick the one they like the most to see how Yae Miko tells the story.
Next, players must submit their entry into the contest. Three days later, they would find out that the light novel was a success, and "A Firsthand Guide to Summoning Spirits" finally lost its place on the top chart. Unfortunately, the journey doesn't end there as players still have to deal with the "author" of the aforementioned book.
Genshin Impact is now available on Mobile, PC, PS4 and PS5. A Switch version is in development.
MORE: Genshin Impact: Yae Miko's Best Builds
Horizon Forbidden West: Should You Choose "I'll Wait or "I'm Going Now" (The Embassy)
In the fourth main story mission of Horizon Forbidden West, The Embassy, ​​players will have to make a dialogue choice, but which option is better?
Read more
About the Author